Alright, everybody. I've been hearing things.
I've been hearing that you are slapping together Doom projects all willy-nilly and kvetching about needing to pare back the textures used for the final product. I've been hearing that you've been wanting to get into MBF21 and/or DSDHACKED development, but the patch building is just one tiny piece of the puzzle. I've been hearing about some of you that manage your projects in single WADs and making one point of failure for your magnum opus, and perhaps need some kind of repository-driven solution.
I hear you need a better way. Well, guess what? That "better way" exists!
What if I told you that you could do all of those things in one command? You'd say I was crazy. But you can. Enter DoomMake.
DoomMake is a project builder for Doom mods. It's a program that builds a file system scaffolding where you throw everything in the correct directories and your wonderful WAD file pops out! Whether you are making something by yourself or with others, DoomMake does the heavy lifting when it comes time to package up your work before you send it out into the world!
"Heavy lifting," I might add, that includes exporting only the map textures necessary to play your mod, so that you don't have to do that manually!
The Most Common Project
Now, a lot of y'all are gonna be like, "Matt, you're a handsome, charismatic dreamboat, but what you are promising can't possibly be that easy." Well, aside from the parts where I'm a handsome, charismatic dreamboat, you're wrong. It IS that easy!
The most common kind of project is gonna be one with maps, loose assets, and textures from a texture WAD, right? DoomMake's got you covered. Type this at the command line to make that initial project structure:
doommake myproject --new-project assets texturewads maps
Then you'll have to answer some quick questions:

What is your project's WAD name (blank for "PROJECT")? SOMEJUNK
Path to project IWAD (blank to skip)? H:\Doom\IWADs\DOOM2.WAD
And then after some stuff gets generated, you'll see this in your project directory that was just created: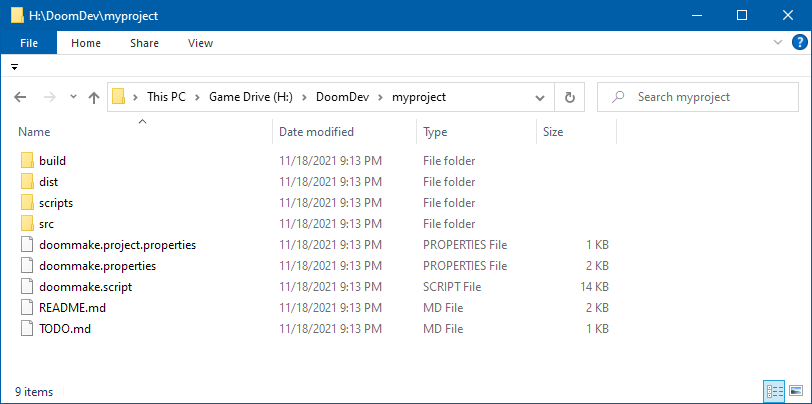 Those files and folders are the main scaffolding of your project. Those .script and .properties files are what drive the DoomMake build process. Everything is editable! If you update DoomMake itself (via DoomTools updates), your project's build will still work!
See that /src folder? Let's take a look inside!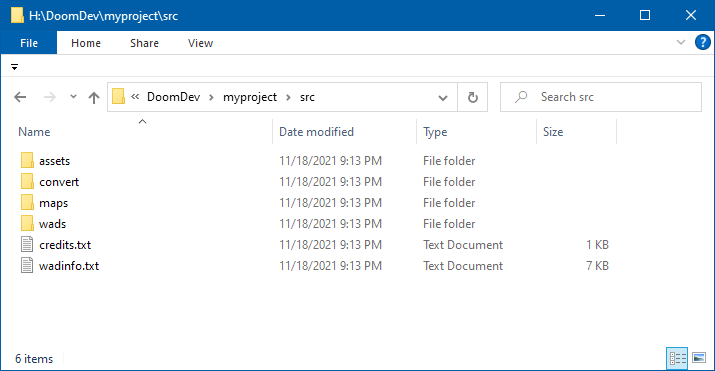 Change that wadinfo.txt. That becomes your text file (and is imported as WADINFO in the final WAD file).
Record and maintain project credits in credits.txt. That gets imported as CREDITS in the final WAD, as well.
Put (or edit) all of your maps in /src/maps. Use your favorite map editor! Only the map WADs are read!
Throw your texture WADs in /src/wads/textures. You'll use those files for editing maps.
You've got a /src/assets folder for all of your loose assets: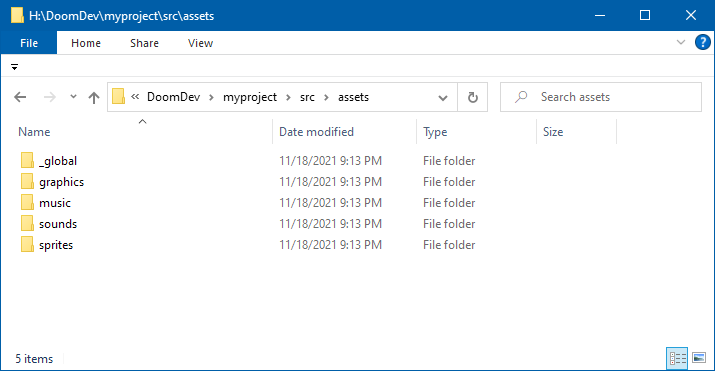 A place for global-space stuff like DEMOs or GENMIDI or whatever, a place for graphics, music, sprites, or sounds, imported as-is.
The /src/convert directory will contain graphics, sounds, and sprites that get automatically converted on build and placed in asset directories.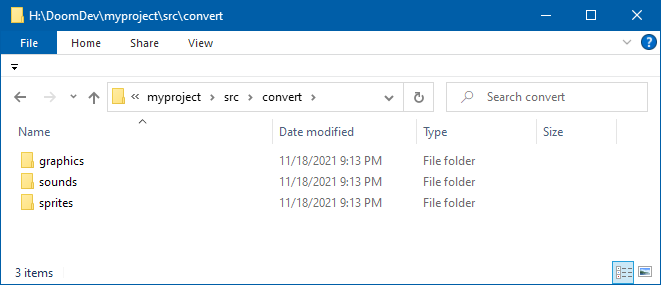 But how are you going to edit all of those assets and whatnot? Easy! Using SLADE! It's got a directory mode! Just open that /src directory and you can move stuff in, alter, and save to the project structure!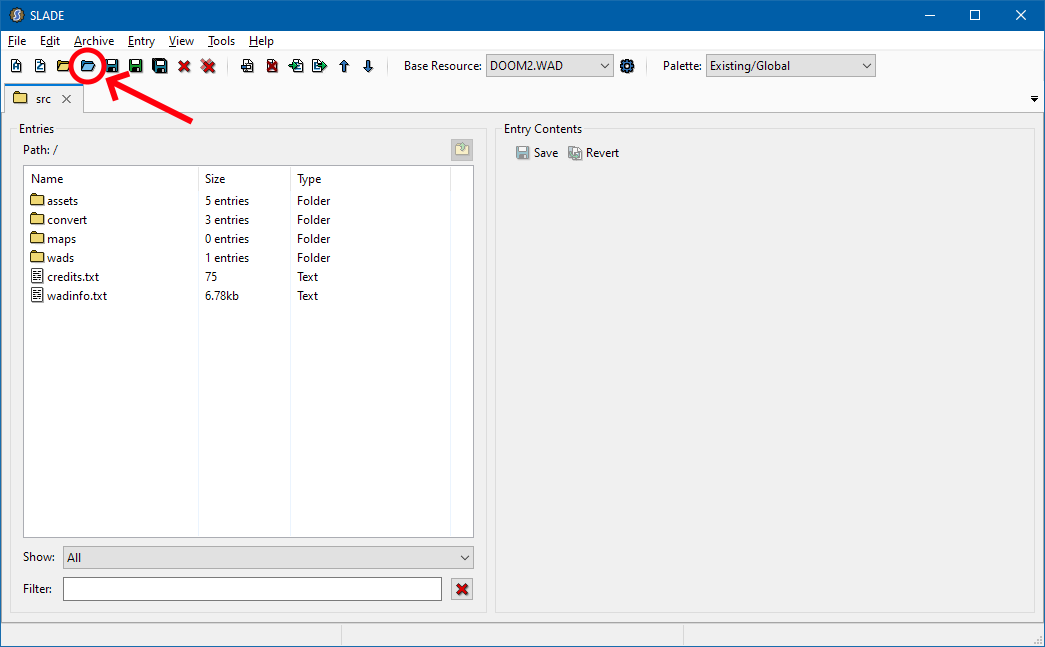 And then when you're all done, just jump into your project directory at the command prompt, and type:
doommake
THAT'S IT!
DoomMake will then chew through all of your project stuff, spit out some intermediate WAD files in the /build directory, and assemble your project as a texture-minified product in the /dist directory!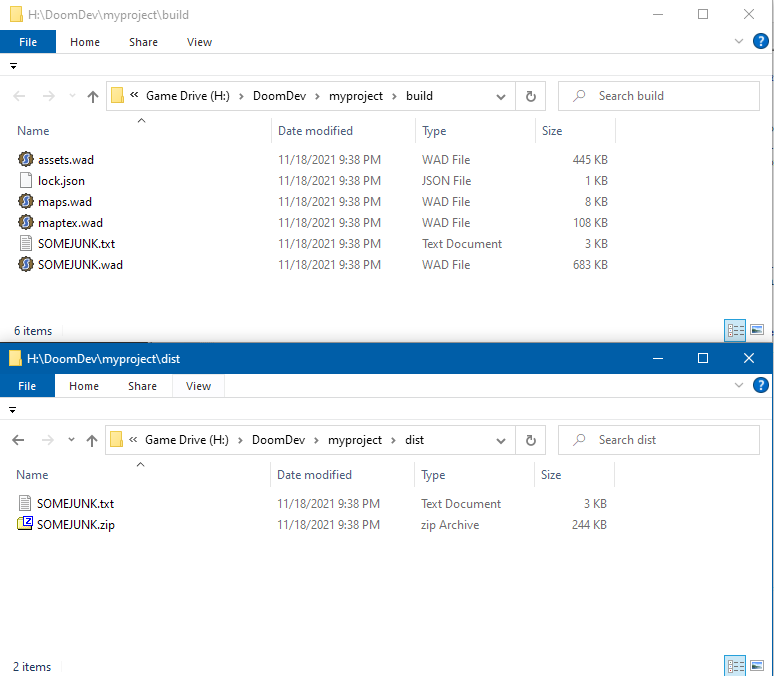 And there you have it. DoomMake is also smart enough to not rebuild stuff that didn't change, so you can keep rebuilding stuff as you edit other things.
What else can it do?
It also has templates for DECOHack (or other patch utilities), initializing a Git repository for your project (and Mercurial), and even running your project from DoomMake in your favorite source port! And if there's a tiny thing it doesn't support out of the box, you can edit all of the project scripts until it's how you like it.
What CAN'T it do?
Well... it doesn't put together GZDoom and Eternity PK3/PKEs out of the box, yet. But it's coming soon! Just need to figure out the best approach for that sort of thing. Nothing says you can't code that yourself in the DoomMake scripts! DoomTools (and DoomMake) should contain documentation about it.
Oh. Well, any help for other types of Doom projects?
Sure! Here's a webpage for giving you the correct command line for creating the project scaffolding of your dreams, plus a lot of extra information about all the different templates in your project:
There's even an example project that you can clone and build yourself using Git! BEHOLD IT'S POWER!
https://github.com/MTrop/doommake-example
Who is using DoomMake?
All the cool kids are using DoomMake! Prominent authors! Me! Maybe YOU, one day!
Now, get out there and MAKE SOMETHING!